Never Alone (2014)
Inspired by the rich art and imagery of Alaska Native cultures, Never Alone brings the marvelous world of Iñupiaq storytelling alive.
Release: Fall, 2014
Role: Studio Director, Creative Director
Platforms: PC, Mac, Linux, PS4, PS3, XB1, Wii-U, iOS, Android, nVidia Shield
On over 50 "Best of 2014" lists, from Eurogamer to PC Gamer, from the L.A. Times to the New Yorker. Winner of the British Academy Award for Best Debut, and Games for Change Game of the Year and Most Significant Impact. Nominated for awards from DICE, GDC, SXSW, IndieCade, and more. The whole world has discovered and fallen in love with Never Alone (Kisima Ingitchuna) — the first game developed in collaboration with the Iñupiat, an Alaska Native people. Nearly 40 Alaska Native elders, storytellers and community members contributed to the development of the game. Play as a young Iñupiat girl and an arctic fox as they set out to find the source of the eternal blizzard which threatens the survival of everything they have ever known.
Production Notes:
In 2011, I received an invitation from E-Line Media and the Cook Inlet Tribal Council to visit Alaska to start a conversation with members of the Iñupiat community. The community was inspired to use emerging technologies to celebrate and share their cultural values and traditions to both instill pride in their communities and catalyze the curiosity of a worldwide gaming audience. I was selected to build a new development studio in Seattle to support the production of Never Alone and lead the project's Creative Direction.
Go Behind-The-Scenes of the development of Never Alone.
Never Alone was one of the most fulfilling projects of my career. The opportunity to build games while working directly with a community to help give voice to their culture was a once in a lifetime opportunity.
An auditorium at Barrow High School packed with Alaska Native youth react with great joy to a pre-alpha version of Never Alone.
Over a dozen trips to Alaska and the many visits by Alaska Native collaborators to our studio in Seattle we developed mutual trust and built a work of lasting importance together. The trust allowed us unprecedented access to the community including being invited to participate in sacred cultural and community events.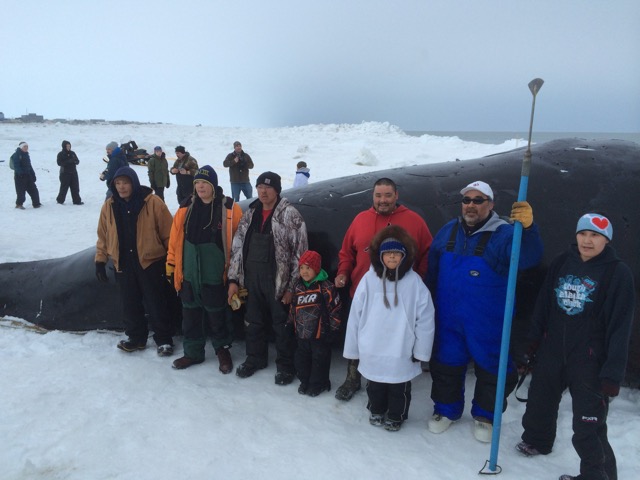 A whaling captain and his crew allowed our team to participate in the processing of a 40′ Bowhead whale, kicking of Spring Whaling season in Barrow.
The game and our process for inclusive development was widely covered by national and international press.
Never Alone enjoyed wide international press attention. This news segment produced by Al Jazeera was one of my favorites.
Never Alone serves as a model for how to appropriately infuse real world cultural values, history and storytelling traditions into a video game. Through Never Alone we demonstrated how to develop games collaboratively and inclusively with the communities we seek to authentically represent.
Praise:

"9/10" – Steam Aggregate User Reviews
"4.5/5" – Google Play Store
"a charming, beautiful game … should You Play This Game? YES" – Kotaku
"stunningly poignant – and quite brilliant." Eurogamer (10/10)
"​Never Alone has a message – it is a truly beautiful game." Joystiq (4.5/5)
Awards:
Apple – Editor's Choice (2016)
DICE – Best Game Direction (Nominated, 2015)
Eurogamer – Essentials Award (2014)
Destructoid – Pax Prime Editor's Choice (2014)
Links:
Steam Store Page
GOG Store Page
Playstation Store Page
XBox One Store Page